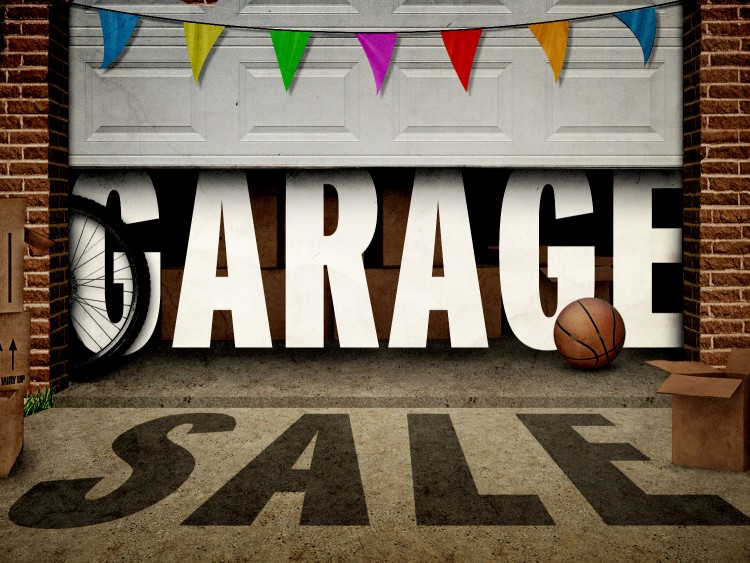 It's that time of year when people want to do a little home clearance and get rid of things that don't matter to them anymore. Garage or yard sales help accomplish this and helps in making some extra cash with their unwanted items.
I have two garage sales I'm helping to organize and help at for clients this month and I'm truly looking forward to it. Why? It could be it's because I love going to garage sales and I get first dibs on buying their unwanted stuff!
Seriously though, I do love this kind of work and have gotten pretty good at pricing items to sell at garage sales too. I've been to these kind of sales where people don't know how to price their things and think that their old sofa will sell for $400 or something when, in fact, no one going to a garage sale is going to pay that sticker price when they can get a new sofa at that price.
People want a bargain and that's why they go to garage sales, so pricing stuff accordingly is important. However, you can place a higher value on something, but just be prepared to be bargained down from that asking price.
Organizing a garage sale often entails a lot of prep work, especially going through your stuff and sorting out what you want to sell.
Here's some tips on how to plan and organize a garage sale:
Sort through stuff. Go through the house, room by room, and set aside items you no longer want or value. Make sure to go through any cabinets or closet areas in each room to pull out things to sell.
Categorize stuff. Collect up those items and sort into boxes or bins by "like items" – home decor, art, kitchen wares, small appliances, books, electronics, clothing, accessories, etc.
Price stuff. Everything should have a price tag on it. Make your own price labels or purchase price stickers.
Pre-sale items. If you're planning to list any items for pre-sale on CraigsList, make a list of those items (with details of brand/ model, measurements, etc.) and price it. If it's furniture items, be sure to measure them. Also, take photos of the items you are selling on CraigsList.
Post a notice. Post a garage sale notice on CraigsList a week before the sale. List any special items (with photos) you are selling.
Get display materials. Try to get some folding display tables to use for your sale items. Shelves also work nicely, too. And for clothing, use a clothing rod of some kind to hang clothes on because clothing sells better when they are hung.
Enlist helpers for sale day. Make arrangements with family and/or friends (and your professional organizer!) to help out on the day of the sale. This is NOT something you want to do alone! Depending on how large the sale is, I suggest a minimum of 3 people.
Get signs. Get or make garage sale signs – plenty of them. You'll need to post these signs around your neighborhood to draw people to your sale. Post these the day before (or morning of) the sale. And be sure to have pins and clear packing tape with you!
Get cash and coins. You are now a retailer and will need some starting cash to give change when someone makes a purchase. You can go to bank and get a roll of quarters, some one, five and ten dollar bills.
Have a cash box. Be sure to also have something to keep money in – any kind of cash box of some sort will do. If you don't have that, you can use an envelope. Keep this in a spot where someone is always on duty at the cash station. I also think it's also a good idea to wear a waist pocket-purse to collect money when you're away from the cash box mingling with customers.
Have a calculator. You'll need to add up purchase items and it's just easier to have a calculator on hand. Smartphones have calculator apps on them and can also be used instead.
Have bags on hand. This is optional but I find that it is nice and convenient if you have bags for customers who purchase multiple items and need to bag it.
Get a pocket apron. This is also optional although it does help if you don't have a waist-purse, and it also signifies that you are a seller to crowds of people looking around. I find these at the dollar stores in either crafts, gardening or tool areas.
On the morning of the sale I bring the sale items out of the garage to display. Creating a welcoming display of things draws a crowd, especially people driving by, so make it look as nice as possible. You don't want create clutter on your driveway or front lawn areas!
You'll also need a cashier station of some sort where someone can sit and handle purchases and be the cash box security person. This should be sitting away from the sale area, but not far of course. And having chairs for helpers to sit on when things quiet down is a must!
Now you're ready for the crowds of people to buy your unwanted stuff! Have fun!