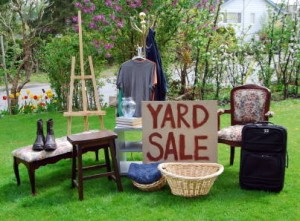 After your home area are de-cluttered, you can make some extra cash with all those items you no longer needed or wanted!
Hassle-free Garage / Yard Sales
Organize a garage or yard sale with the help of The Organizing Lady – who will sort, price, place ads and signs, and run the garage sale for you. When it's over, she can even arrange for a donation pick-up on remaining items. A professional organizer helps make the task a lot easier!
Rates
Pre-sale: $75/hr or $90/hr for 2 organizers (sorting, pricing, advertising, placing signage)
Garage sale day: 25% of sales + $120/assistant labor (set ups, running the sale and clean-up)
Stress-free Estate Sales
This should be done by a professional and the Organizing Lady is experienced in organizing and holding estate sales. Because these type of sales usually involve people coming into the home, it is important to know about security and pricing valuable assets. This may involve getting special asset appraisals (jewelry appraisals, art appraisals, antique appraisals, etc.).
Call for estimate. 818-614-9580.
Photo Gallery of an Estate Sale: